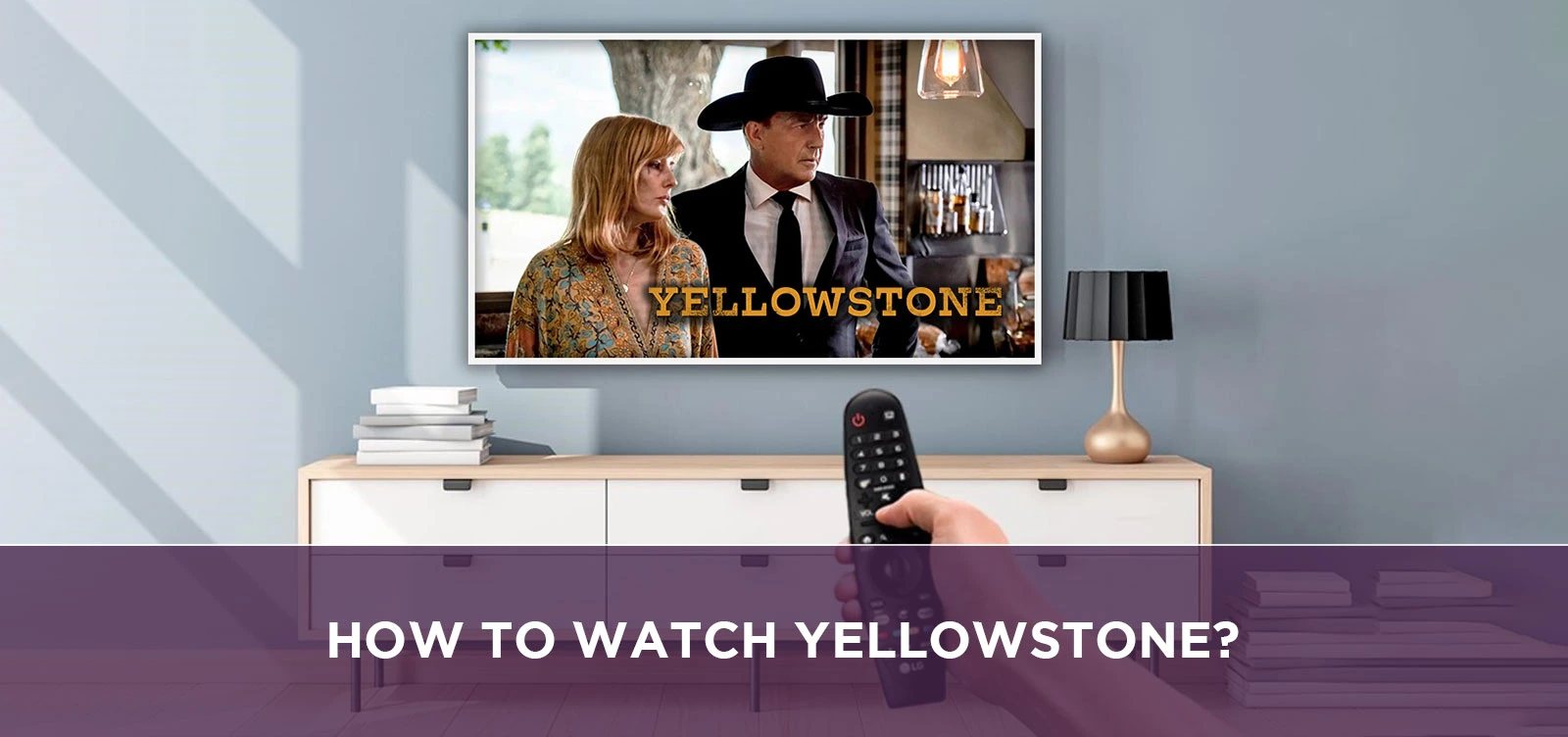 Yellowstone National Park, located in Wyoming, is known for its stunning landscape of geysers, hot springs, and wildlife. It's also the setting for an acclaimed television drama series called Yellowstone, created by Taylor Sheridan. The show stars Kevin Costner as John Dutton, a patriarchal figure who owns the largest cattle ranch in the United States. For those interested in seeing this captivating drama, here is all that you need to know about how to watch Yellowstone.
What is Yellowstone?
Yellowstone is a gripping drama series set in Montana, portraying the challenges faced by the Dutton family - a dynasty of powerful and wealthy cattle ranchers. The series showcases intense conflicts with neighboring tribes, land developers, and politicians while highlighting the raw beauty of the American West. The story revolves around patriarch John Dutton, his children, and his loyal ranch hand Rip. Any fan of intense drama series and westerns will enjoy watching Yellowstone.
Traditional TV Viewing of Yellowstone
For those who prefer traditional TV viewing, tuning in to Yellowstone on cable might be the most convenient option. Cable subscribers can access the show through the Paramount Network, either by watching its live broadcast or on-demand episodes through the cable provider's website or app. However, for those without a cable subscription, buying episodes or seasons on services like Amazon Instant Video or iTunes is an option. While this may not be as ideal or cost-effective as streaming options, it's still a way to catch up on the show before diving into the latest season. It's also worth noting that Paramount Network's website offers access to episodes of Yellowstone when signing in through a television provider, which could be an option for those without traditional cable.
Watch Paramount On DirecTV Here: What Channel is Paramount on Directv?
Watch Paramount On Dish Network Here: What Channel is Paramount on Dish Network?
Best satellite providers for Paramount Network and Yellowstone
| | | |
| --- | --- | --- |
| Provider | Price | Channels (including Paramount Network) |
| | $64.99–$154.99/mo. | 165–340+ |
| | $79.99–$109.99/mo. | 190–290+ |
Streaming Yellowstone on the Paramount Network app
Viewers who want to catch up with every episode of Yellowstone without subscribing to cable can do so by streaming the show on the Paramount Network app. This service is currently the only streaming option available for the new season of the show. Fans of the show can download the app on their smartphone or tablet and start streaming. The app is also available for use on television sets through connected devices like Roku, Apple TV, and Amazon Fire TV. Streaming through the Paramount Network app offers a seamless, uninterrupted viewing experience for users who can watch the show on-demand without any commercial breaks. It's a convenient option for those who want to catch up with or keep up with their favorite shows, including Yellowstone, Lip Sync Battle, and Bar Rescue, all in one place.
Watching Yellowstone on Peacock
For those cord-cutters out there, Peacock is the best option to stream Yellowstone. With a subscription to Peacock Premium, you can watch the first four seasons of the show at any time. Additionally, with Peacock Premium Plus, you have the option to download episodes to watch offline. Although the new episodes of Yellowstone only air on the Paramount Network, you can still watch older episodes on Peacock without needing a cable subscription. For just $4.99/month, you can have access to all past episodes of Yellowstone. This is a great deal for fans of the show, as they can catch up on past episodes before the new one's air on cable. So, if you're looking to stream Yellowstone, Peacock is definitely the way to go.
Watch Yellowstone on fuboTV
FuboTV is a popular streaming service that offers viewers access to a range of sports channels, including the Paramount Network where you can watch Yellowstone. This platform is perfect for cord-cutters who do not have cable but still want to stream their favorite TV shows, movies, and sports events on multiple devices. FuboTV's "Pro Plan" offers Yellowstone for $74.99 per month and comes with over 100 channels of live sports and TV. Additionally, those who do not want to commit to a long-term subscription can start their seven-day free trial on platforms such as Direct TV, Vidgo, or YouTube TV. With FuboTV and similar streaming services, you can enjoy Yellowstone and other top shows anywhere, anytime, without any contracts.
Official Streaming Service for Yellowstone on Peacock
Peacock is the official streaming service for Yellowstone, making it easy to watch the popular Western TV show online. Fans have access to the first four seasons of Yellowstone on Peacock, with the first episode available on the free tier. To watch the rest of the series, viewers need a Peacock Premium subscription, which starts at $4.99 per month. With Peacock, viewers can stream Yellowstone on various devices, including smartphones, tablets, and smart TVs. Additionally, Peacock offers a range of other TV shows and movies, making it a great option for entertainment seekers. Overall, using Peacock to stream Yellowstone is a convenient and affordable way to catch up on the beloved series.
Watching New Seasons of Yellowstone on the Paramount Network without Cable
For those who have cut the cord and no longer have access to traditional TV, there are still options to catch the latest seasons of Yellowstone on the Paramount Network. Streaming services such as Hulu Live TV, FuboTV, Sling TV, Philo, and YouTube TV offer access to the network and allow viewers to watch the new episodes as they air. Of these services, Philo is the most affordable option at only $25 per month for a standard subscription. Meanwhile, Sling TV is the best way to stream the new season of Yellowstone, as it is not available on other platforms. No matter which service you choose, viewers can continue to follow the dramatic events of the Dutton family on their ranch in Montana without the need for a cable subscription.
Pro Tip: How to Watch Yellowstone Season 1 to 5?
How to watch Yellowstone for free?
To watch Yellowstone for free, individuals can use various online streaming platforms and applications. One option is to sign up for a free trial with streaming services such as Hulu, Netflix, or Amazon Prime Video. These platforms offer a free trial period of up to 30 days and users can enjoy streaming Yellowstone without having to pay for it. Alternatively, websites such as project-free-tv. ag and 123movies provide access to various TV shows and movies, including Yellowstone, for free without having to sign up for an account or a subscription. However, it is important to note that these websites may not be legal or secure and may put individuals' personal information and devices at risk. It is recommended to use a reliable virtual private network (VPN) to protect one's online identity and privacy while using such websites.
Ways to watch Yellowstone
Cable or Satellite TV Subscription:
One of the most traditional ways to watch Yellowstone is by subscribing to a cable or satellite TV service. Networks such as Paramount Network air the show, allowing you to tune in to the episodes live as they are broadcast.

Paramount+ Streaming Service:
Paramount+ is a popular streaming service that offers on-demand access to a wide range of TV shows and movies, including Yellowstone. You can stream the entire series at your convenience and catch up on missed episodes whenever you want.

Amazon Prime Video:
If you are an Amazon Prime member, you can access Yellowstone through Amazon Prime Video. This service allows you to stream the show on various devices, including smartphones, tablets, smart TVs, and gaming consoles.

iTunes or Google Play:
Individual episodes or full seasons of Yellowstone can be purchased or rented from digital platforms such as iTunes or Google Play. This option is ideal for those who prefer owning the episodes or want to watch them offline on their mobile devices.

DVD or Blu-ray Box Set:
For those who prefer physical media, you can find the complete seasons of Yellowstone on DVD or Blu-ray. This option gives you the flexibility to watch the series anytime without relying on an internet connection.

Live TV Streaming Services:
Several live TV streaming services, such as Hulu + Live TV, YouTube TV, and fuboTV, offer access to Paramount Network, which broadcasts Yellowstone. These services provide a cable-like experience with live streaming of TV channels, including the show.

Network Website and Apps:
Some networks make episodes available for free streaming on their official websites or through their dedicated apps. Check the Paramount Network website or app to see if they offer this option for Yellowstone.

Library or Rental Services:
If you're patient and don't mind waiting, check if your local library offers DVDs of the show. Alternatively, rental services like Redbox may have Yellowstone available for rent at a low cost.

International Broadcasters and Streaming Platforms:
If you are outside the United States, check the availability of Yellowstone on international broadcasters or streaming platforms. Services like Sky Atlantic, Stan, and Sky Go offer access to the show in various regions.

Network On-Demand Services:
Many cable or satellite providers offer on-demand services where you can access previously aired episodes of popular shows. Check if your provider offers Yellowstone on their on-demand platform.
Conclusion
In conclusion, there are various ways to watch Yellowstone depending on your preferences and access to different streaming platforms. Those who want to watch the latest season can opt for Philo or SlingTV, while those who want to catch up on previous seasons can choose to stream on Peacock, Amazon Instant Video, iTunes, Hulu Live TV, Google Play, or fuboTV. Those who still prefer traditional TV viewing can tune in to the Paramount Network. The availability of a cable login may be required for some streaming platforms. Overall, regardless of how you choose to watch it, Yellowstone promises to provide an entertaining and engaging viewing experience that fans of the genre will thoroughly enjoy.
Call on (855) 212-8877 to watch Yellowstone on your television now!