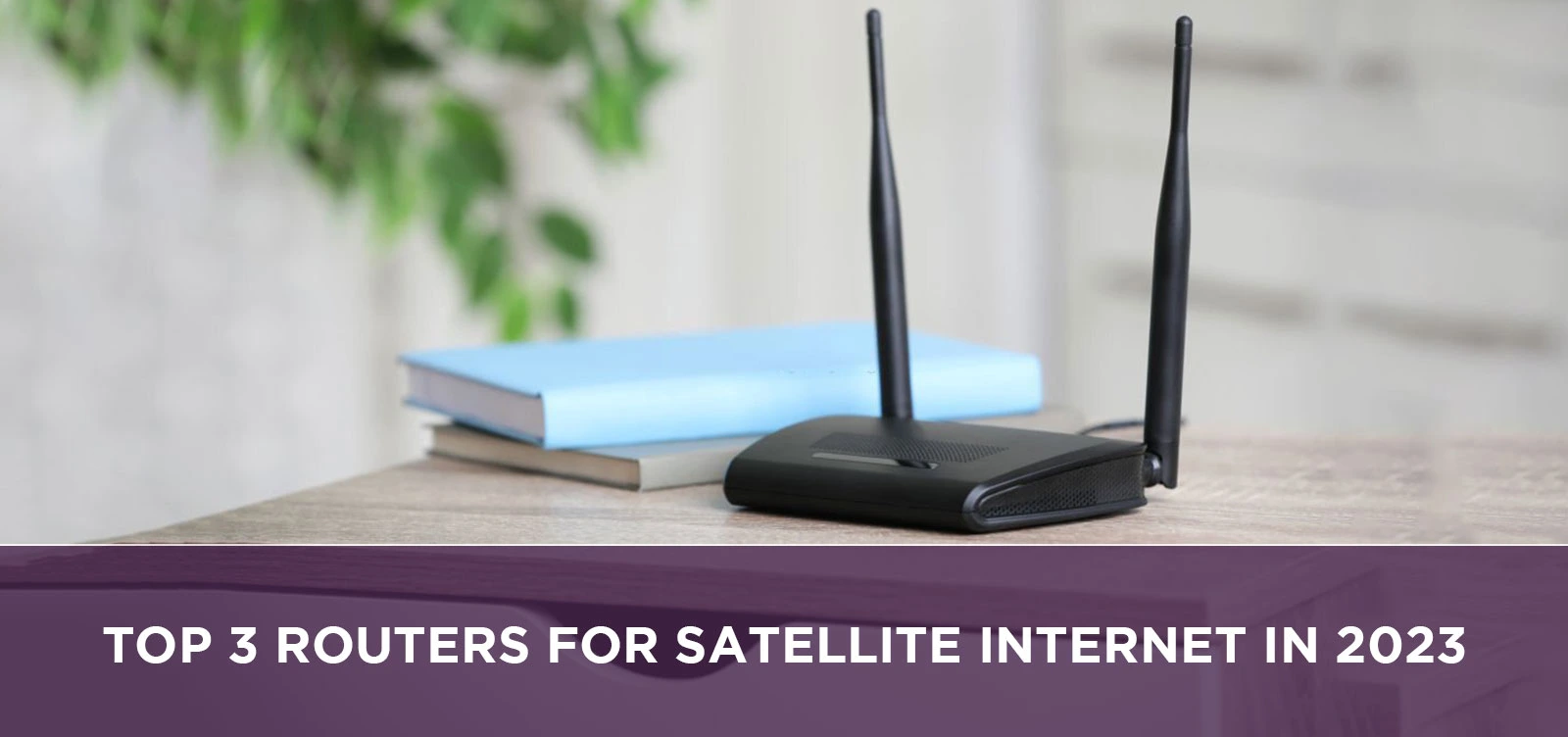 In 2023, satellite internet is more reliable and accessible than ever before. However, without the right router to manage your connection, you won't be taking full advantage of your broadband speeds. Whether you're streaming movies, playing online games or downloading large files from the cloud — you need a router that's up for the job! In this blog post we'll discuss the top three Routers for Satellite Internet in 2023 specifically designed for getting the most out of your satellite internet connection so that you can make an informed decision about what best meets your needs.

What is the best modem for satellite internet?
With satellite internet, you don't have the luxury of using your own modem. HughesNet and Viasat both offer their own proprietary equipment; router-modem combos for those with average-sized homes and upgrades available if one needs greater coverage - or even a Wi-Fi extender!
With the launch of Starlink, rural internet users now have more modem choices than ever before. HughesNet utilizes the HT2000W satellite modem for their service while Viasat offers customers a generic "Viasat WiFi Modem", though it's exact model number is unknown.

2. HughesNet Wi-Fi modem/router
3. Starlink Wi-Fi modem/router


What is the best router for satellite internet?
With satellite internet, you can choose from a variety of routers to get the coverage that best suits your needs. Your Internet Service Provider will likely provide one suitable for most households; however if yours is larger than average an upgraded router may be worth considering for more extensive range and capabilities. Open up new possibilities by taking advantage of this flexibility – something not all home internet solutions offer!
When considering a new router, make sure its bandwidth capabilities are in line with the speeds of your internet service. Even though modern routers are designed to operate at 1 Gbps or higher, satellite services generally max out at 100 Mbps – making investing in an upscale device unnecessary for this type of connection.
Get the most out of your Viasat internet with a router that extends Wi-Fi coverage across all levels, from basement to barn. But if you're looking for something more budget-friendly, consider reinforcing the signal strength with a booster or extender — perfect for sprawling living spaces and totally doable on any device!


1. Viasat Wi-Fi modem/router
Viasat Wi-Fi is designed to deliver fast, reliable and secure internet access throughout your entire house. Whether streaming movies on Netflix or downloading large files, the Viasat Wi-Fi has you covered. Turbocharge your connection with speeds up to 100 Mbps; enjoy worry free gaming with no dropped connections or long waits; and keep all of your data safe from hackers with advanced security features. Let's explore what makes the Viasat Wi-Fi one of the best options for connecting every device in your household!


2. HughesNet Wi-Fi modem/router
Are you a HughesNet Wi-Fi user looking for an easy way to access the internet? Look no further than with a HughesNet Wi-Fi modem/router, which provides your home or business with high speed reliable internet connection. With just one device, you can easily enjoy browsing speeds of up to 25 Mbps and reliability that's hard to beat. Whether it's streaming HD video, sending emails quickly and effectively or simply accessing the world wide web; using a HughesNet modem/router will provide you with all the performance of a wired connection without needing any extra cables!


3. Starlink Wi-Fi modem/router
Are you familiar with Starlink Wi-Fi? If you're looking to make the upgrade to a next-generation option for home internet, then Starlink is worth serious consideration. With ultra-fast speeds of up to 1Gbps and a router that provides seamless web browsing experiences at all times, this powerful device will quickly become your best friend when it comes to staying connected online.


Do you need a special modem for satellite internet?
To make the most of your satellite internet connection, you'll need to get a modem from your provider. This specially designed device translates complex signals from the dish so that data can be sent and received through your network. To use this modem, simply lease it with one of our contract packages!
Need help understanding the difference between a modem and router? Viasat and HughesNet provide their own all-in-one solution: an inbuilt Wi-Fi router that houses both!

Call on (855) 212-8877 & choose best Routers for Satellite Internet!
Resources: