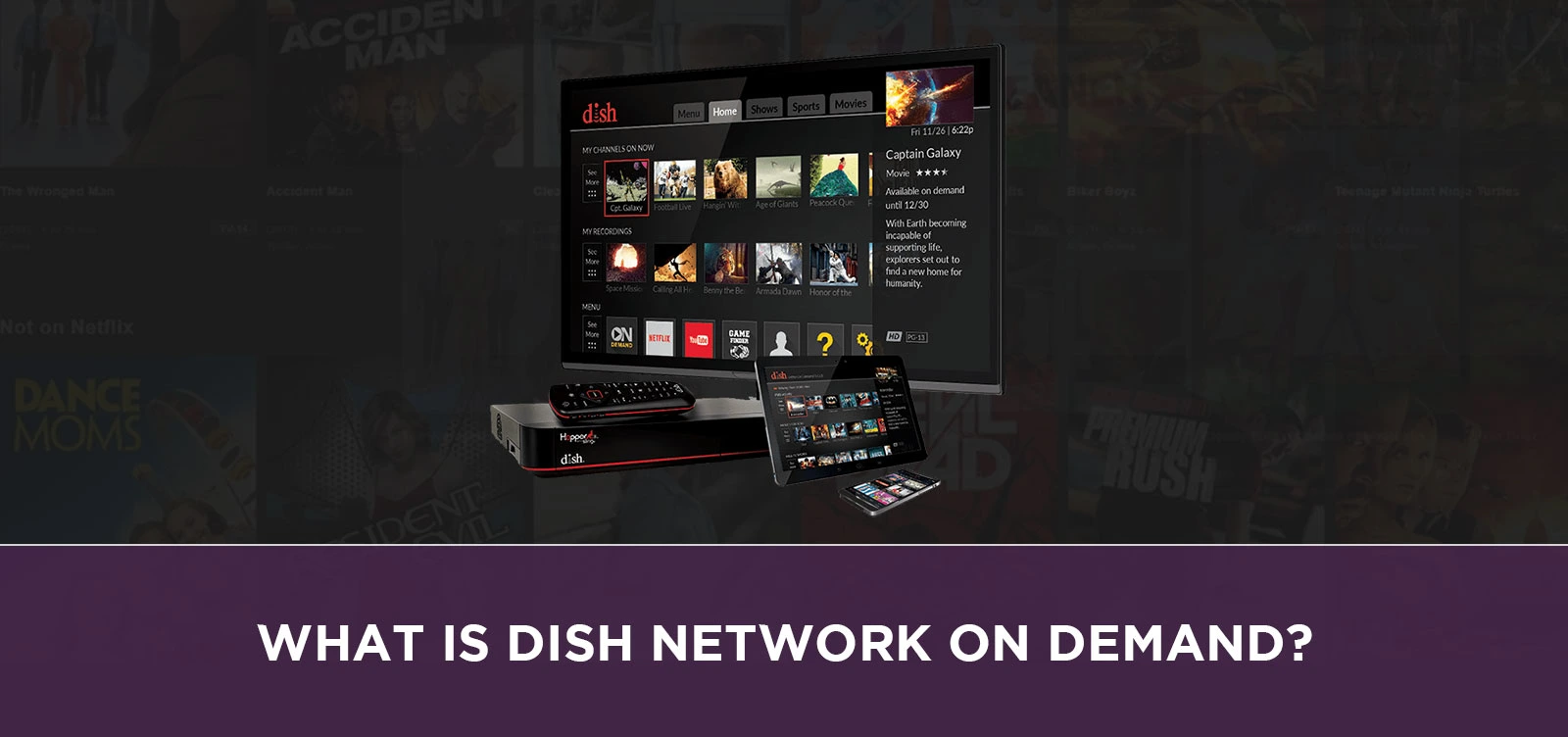 Are you tired of missing out on your favorite TV shows or movies due to hectic schedules or conflicting commitments? Imagine having the power to watch whatever you want, whenever you want, with just a click of a button. With the evolution of technology, the days of being bound to conventional TV schedules are long gone. This is where Dish Network On Demand comes into play, revolutionizing the way we consume entertainment. In this blog post, we will delve into the world of Dish Network On Demand, uncover its endless possibilities, and explore why it has become the go-to choice for thousands of entertainment enthusiasts worldwide. Get ready to embark on an exciting digital journey, where unparalleled access to a universe of captivating content awaits you!
How Dish Network On Demand Works?
1. Explore the World of On Demand
Dish Network On Demand is a highly sought-after feature that offers users an extensive library of movies, shows, and other entertaining content. With its user-friendly interface and flexibility, it revolutionizes the way we watch television.
2. Step into the Digital Realm
Dish Network On Demand leverages cutting-edge technology to bring you an unparalleled entertainment experience. By using a dedicated broadband connection, this service allows users to stream content directly to their television screens. Through the power of the internet, you gain access to an extensive catalog of On Demand titles, ranging from popular movies to your favorite TV shows.
3. The Dish Anywhere App
One of the key highlights of Dish Network On Demand is the Dish Anywhere mobile app. This app enables users to access their On Demand content wherever they go, using their smartphones or tablets. This means you can catch up on the latest episode of your favorite show while waiting at the airport or enjoy a movie during a long commute. Transforming your device into a portable entertainment hub, Dish Anywhere ensures you never miss a moment of your preferred programming.
4. On Demand at Your Fingertips:
The intuitive and easy-to-use user interface of Dish Network On Demand empowers users to effortlessly navigate through its vast array of content. With a few clicks of the remote control, you can explore the different categories, search for specific titles, or browse through recommendations customized to your preferences. This user-friendly design enhances your viewing experience, making it simple to find and enjoy the content you desire.
5. Rental Options and Pay-Per-View
Dish Network On Demand offers various rental options and pay-per-view selections, providing access to the latest releases and special events. Whether you're seeking the newest blockbuster or an exhilarating sports showdown, Dish Network's On Demand service ensures you're always up to date with the hottest content. By renting or purchasing content as needed, this service allows you to tailor your entertainment choices to your preferences.
6. Parental Controls
Dish Network On Demand understands the importance of safeguarding your family's viewing experience. With its comprehensive parental controls, you have the power to monitor and restrict certain content, ensuring a safe and secure environment for your loved ones. This feature empowers you to customize access settings, ensuring that age-appropriate content is readily available to your children.
7. Uninterrupted Entertainment
Dish Network On Demand ensures flawless streaming with its advanced technology. The high-speed broadband connection provides a seamless viewing experience, eliminating frustrating buffering delays. This means you can sit back, relax, and enjoy your favorite content without any interruptions.
What channels are on the dish basic package?
The dish basic package offers a wide range of channels for your entertainment needs. With this package, you can access various TV channels that cater to different interests and preferences. Some of the popular channels included in the dish basic package are:
ESPN: Enjoy all the live sporting action and stay updated with the latest news and analysis.

CNN: Stay informed with breaking news, in-depth reporting, and analysis from around the world.

HGTV: Get inspired with home improvement tips, interior design ideas, and real estate shows.

Discovery Channel: Explore the wonders of the world with informative documentaries and educational content.

Comedy Central: Laugh out loud with stand-up comedians, animated sitcoms, and late-night talk shows.

Nickelodeon: Keep the kids entertained with a wide range of children's programs, cartoons, and educational shows.

MTV: Dive into the world of music, entertainment, and pop culture with music videos, reality shows, and live performances.

History Channel: Uncover the mysteries of the past with historical documentaries, archaeology, and gripping dramas.

Food Network: Satisfy your culinary cravings with cooking shows, food competitions, and recipes from top chefs.

AMC: Immerse yourself in gripping dramas, blockbuster movies, and critically acclaimed TV series.
Benefits of Dish Network On Demand
1. Wide Variety of Content: Dish Network On Demand offers an extensive range of content options, ensuring there is something for everyone. From popular TV shows, movies, documentaries, and even kids' programs, subscribers have access to an extensive library of entertainment at their fingertips.
2. Flexibility in Viewing: With Dish Network On Demand, users have the flexibility to watch their preferred content whenever and wherever they want. Whether it's catching up on missed episodes, binge-watching a TV series, or enjoying a movie night, subscribers can access the content on their own schedule.
3. Easy Accessibility: Dish Network On Demand eliminates the need for physical media or external devices. Simply connect your Dish Network receiver to the internet, and a wide array of entertainment options open up through the on-demand service. This user-friendly setup allows for quick and easy access to a plethora of content.
4. High-Quality Streaming: Dish Network On Demand ensures a seamless streaming experience with high-quality video and audio. Through their advanced technology and reliable network, subscribers can enjoy their favorite shows and films with excellent clarity and sound, giving them a theater-like experience from the comfort of their own homes.
5. Personalized Recommendations: The on-demand platform also offers personalized recommendations based on the viewer's previous selections and preferences. By analyzing user behavior, Dish Network can suggest similar or related content, helping subscribers discover new shows, movies, or genres they may enjoy. This personalized touch enhances the overall viewing experience and saves users the time and effort of searching for something new.
6. Cost-Effective Entertainment: Dish Network On Demand provides cost-effective entertainment options. Subscribers can choose from a wide range of free content, as well as pay-per-view movies or special events. This flexibility allows individuals to control their entertainment budget while still enjoying high-quality programming.
In conclusion, Dish Network On Demand offers an array of benefits to subscribers. From a vast content library and flexible viewing options to personalized recommendations and cost-effective entertainment, this service caters to the diverse preferences of its users. With Dish Network On Demand, entertainment becomes more accessible, convenient, and enjoyable than ever before.
Call on (877) 471-4808 to get a Dish Network connection now!