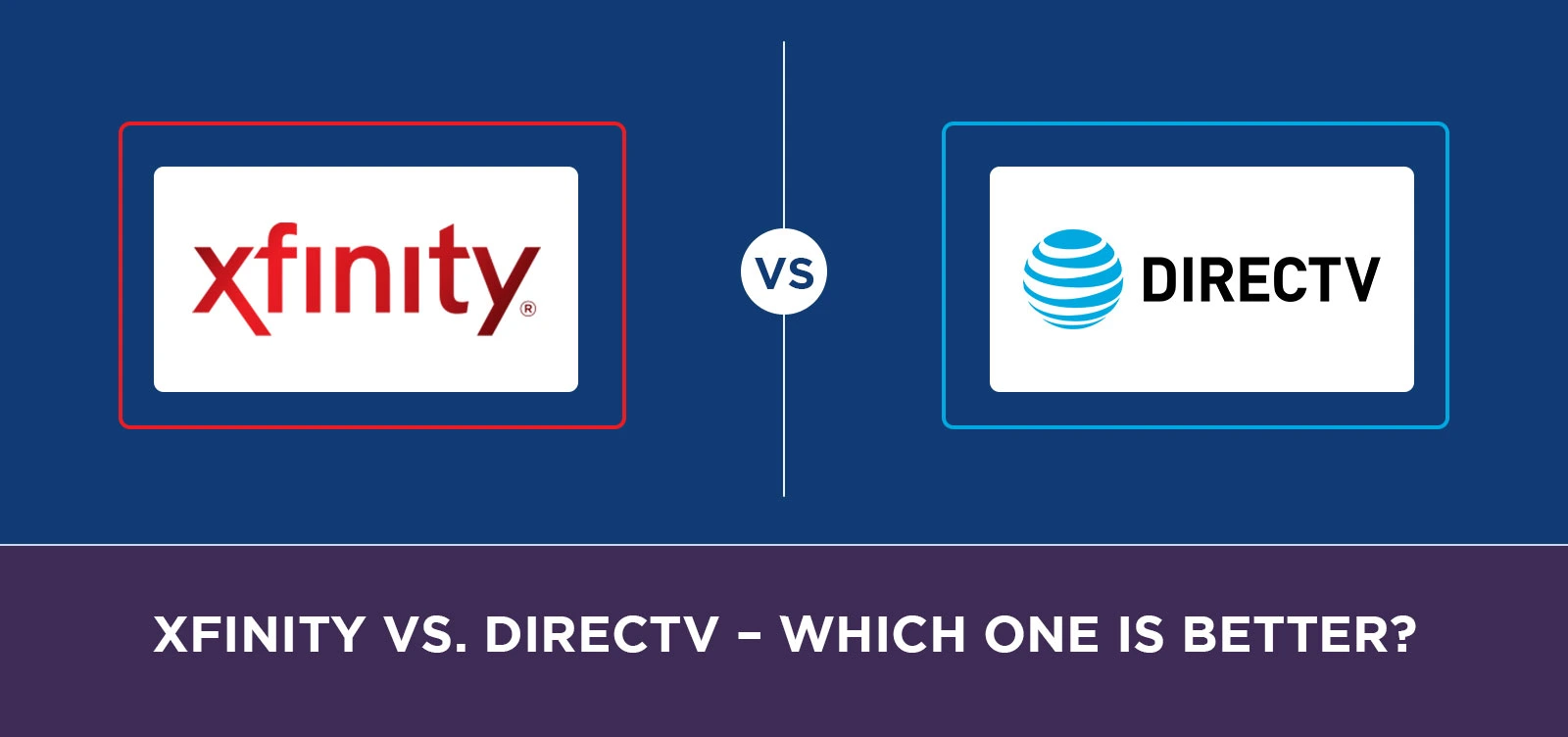 Are you in the market for a new television service and trying to decide between XFINITY vs DirecTV? It can be tough to determine which one is better considering both offer a range of channels, packages, and features. In this comparison, we will delve into the differences between XFINITY and DirecTV, so you can make an informed decision about which one is best suited for your entertainment needs. Let's get started!
Introduction to XFINITY and DIRECTV
In this comparison of XFINITY and DIRECTV, two of the largest TV service providers in the United States, it's important to understand the basics of each company. XFINITY is a cable TV provider with coverage in most states, while DIRECTV is a satellite TV provider covering 38 out of 50 states. Prior to selecting a service, it's essential to consider the different packages, channel selections, premium pricing, and equipment options. Ultimately, the consumer must decide which provider best suits their needs, depending on important factors such as bundling services, customer service, and delivery method.
Bundling Services with XFINITY
When it comes to bundling services, XFINITY has a clear advantage over DIRECTV. XFINITY offers a variety of internet, TV, and phone packages, allowing customers to customize their bundle to best suit their needs. In contrast, DIRECTV primarily offers TV packages with limited bundling options. Additionally, XFINITY offers a unique streaming service called XFINITY Stream, which allows customers to access their TV channels and on-demand content on the go. This adds a level of convenience that DIRECTV does not currently offer. When comparing the two providers, bundling with XFINITY offers more options and flexibility.
Channel Selection of XFINITY vs. DIRECTV
When it comes to channel selection, both Xfinity and DIRECTV offer a wide range of options for viewers. Xfinity has fewer channels overall, but its user-friendly interface makes browsing and selecting channels a breeze. DIRECTV, on the other hand, has more channels available, including the coveted NFL Sunday Ticket package, which is a big draw for sports fans. The decision ultimately comes down to personal preferences and needs, but it is important to note that DIRECTV package prices can more than double after the initial two-year term, so it's essential to read the fine print before committing to a plan.
Premium Channel Pricing Comparison
When it comes to premium channel pricing, DIRECTV options are more expensive than Xfinity TV. DIRECTV's packages range from $5.99 to $12.99 per month, depending on which channel you're interested in. Their top-level plan, DirecTV Premier, costs as much as $140 a month. Xfinity TV, on the other hand, charges less for their premium channels, with prices ranging from $4.99 to $15.99 per month. It is important to note that these prices are in addition to the cost of the base package and internet service for access to On Demand. Ultimately, the decision between the two providers will depend on your budget and the specific channels you're interested in.
See XFINITY TV Packages: Xfinity TV Packages
See DIRECTV Packages: DirecTV Package
Customer Service Comparison
When it comes to customer service, XFINITY and DIRECTV vary in their approach. XFINITY has been known to receive mixed reviews, with some customers praising their responsive support team while others have reported long wait times and unhelpful representatives. On the other hand, DIRECTV has been known to receive higher customer satisfaction scores, with many praising their knowledgeable representatives and easy-to-use interface. In terms of bundling services, XFINITY offers a wide range of options for TV, internet, and phone, while DIRECTV focuses primarily on TV packages. Ultimately, when choosing between XFINITY and DIRECTV, it's important to consider your preferences and individual needs, such as your preferred channel selection, pricing, and desired level of customer service.
See XFINITY customer Services: Xfinity customer service
See DIRECTV customer services: DIRECTV Customer Service
Base Package Options
Xfinity and DIRECTV offer different base package options to their customers. While DIRECTV boasts more channels and a better DVR, their two-year-long contract with package prices that more than double can be a turn-off for some consumers. On the other hand, Xfinity is a great option if you are looking to bundle cable TV and internet services - their super-fast internet connections are a huge draw. While Xfinity only offers half as many channels as DIRECTV, their pricing is generally lower across the board. Ultimately, the best base package option depends on an individual's needs, preferences, and budget. It's important to thoroughly research and compare the options before committing to a contract or service.
Delivery Method: DIRECTV vs. XFINITY
When it comes to delivery methods, DIRECTV uses a satellite dish to provide TV service, while XFINITY uses cable lines. This means that if you live in a rural area or a place where cable lines don't reach, DIRECTV may be your only option. However, if you're in a more urban or suburban area, the XFINITY cable delivery method may provide more reliability and consistency in your TV service. Also, XFINITY can offer faster internet speeds due to its cable infrastructure, which can be bundled with its TV service. Ultimately, the choice between the two depends on your location and what delivery method is available to you.
HD Channels Comparison
When it comes to HD channels, both XFINITY and DirecTV offer a wide selection. However, there are some differences between the two providers. XFINITY offers more than 200+ HD channels, while DirecTV has over 330. The difference may seem significant, but it's important to note that XFINITY's HD channels often come at no additional cost, while some of DirecTV HD channels require an additional fee. Additionally, XFINITY has exclusive partnerships with premium networks like HBO, Showtime, and Starz, ensuring access to the latest hit shows and movies in high definition. In contrast, while DirecTV has a larger overall HD channel selection, its exclusivity agreements with certain networks may limit the variety of programming available. Ultimately, when it comes to HD channels, it's important to consider both quantity and quality, as well as any additional costs or restrictions associated with specific channels or packages.
Equipment Comparison
When it comes to equipment, DIRECTV and Xfinity have their differences. DIRECTV offers the Genie HD DVR with optional Genie Minis, while Xfinity offers their X1 DVR with Voice Remote. In terms of the number of HD channels they offer, DIRECTV takes the lead. However, Xfinity's equipment is easier to use, with their X1 DVR featuring a user-friendly interface and the ability to find your favorite shows with voice commands. Ultimately, the choice between DIRECTV and Xfinity's equipment may come down to personal preference and what features matter most to the viewer.
Final Verdict: Which One is Better?
After comparing XFINITY and DIRECTV, it's time to make the final verdict. While both providers have their strengths and weaknesses, XFINITY seems to be a better choice for those who want to bundle their services and have a better user experience. On the other hand, DIRECTV's packages are on the expensive side but offer more options for sports fans. In terms of customer service, XFINITY has made significant improvements in recent years, while DIRECTV has received mixed reviews. When it comes to channel selection, DIRECTV offers more options, especially for those who want access to premium channels. However, XFINITY's base packages are more affordable, and their on-demand library is more extensive. Both providers have similar HD channel options, but DIRECTV has a slightly better equipment offering. Overall, the final verdict is that XFINITY is the better choice for most people, but it ultimately depends on individual needs and preferences.
Call (855) 212-8877 & choose the best provider between XFINITY and DirecTV now!